Building online forms can be hard. INKD Sign makes it easy
Spend more time focusing on your business and less time filing away paper forms.
Our form designer can help you create all types of forms for your tattoo business so you can collect the data that you need, safe and securely…
Form Templates
Choose from several tattoo consent related templates. Exactly how you want them. Ready to be customized.
Reporting
Dynamic reporting showing statistics of your form submissions.
Real-Time Notifications
Get notifications as soon as someone completes your form. We can send an email so you never miss a submission.
Custom Branding
Add your business logo and brand elements to your form. Who says your form needs to look different than your paper forms?
Add Notes & Images
Ever want to append notes or attach before and after pictures to your customer forms? Guess what? YOU CAN!
Link Forms
Multiple forms? No problem! Send one link to your customer that will open one form after another.
Powerful Backend
Create fast and easy with drag & drop page builder and powerful theme options. Absolutely no coding required.
Filing System
Organize your customer forms into one single customer file for easy customer lookups.
Customer Support
If you ever need help, we will be there for you.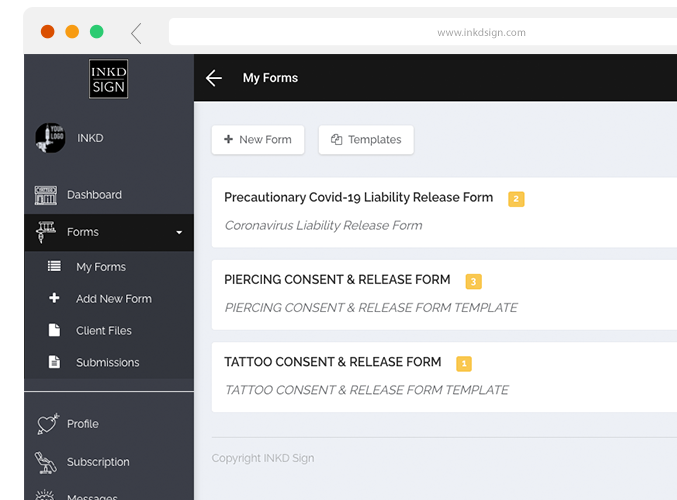 All in One Solution for Tattoo and Piercing Businesses
Release Forms, Consent Forms, Aftercare Instructions, COVID Release and custom forms!
Tattoo Release/Consent

Piercing Release/Consent

Aftercare Instructions

COVID Release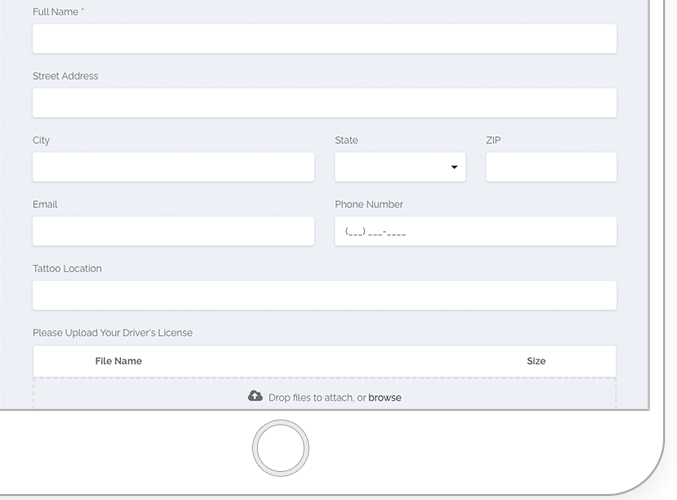 Tattoo and Piercing specific
INKD Sign allows you to create beautiful forms without knowing how to code. With an intuitive drag-and-drop form builder and reusable templates at your fingertips, the possibilities are endless.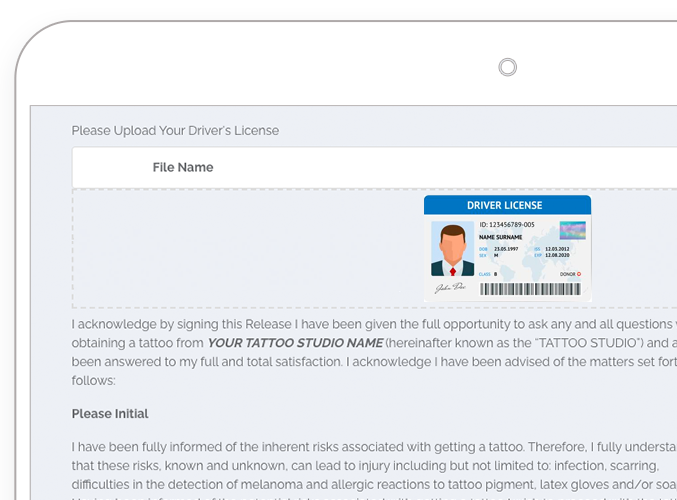 Attach Images
Uses a device camera on iPad, iPhone, Android to take pictures and instantly attach them to your submission or customer form.
Customer can upload ID or a picture of their ID or both!

Take a picture of the Tattoo and attach it to the customer submission

Images can be required or optional.

Unlimited image attachments